pho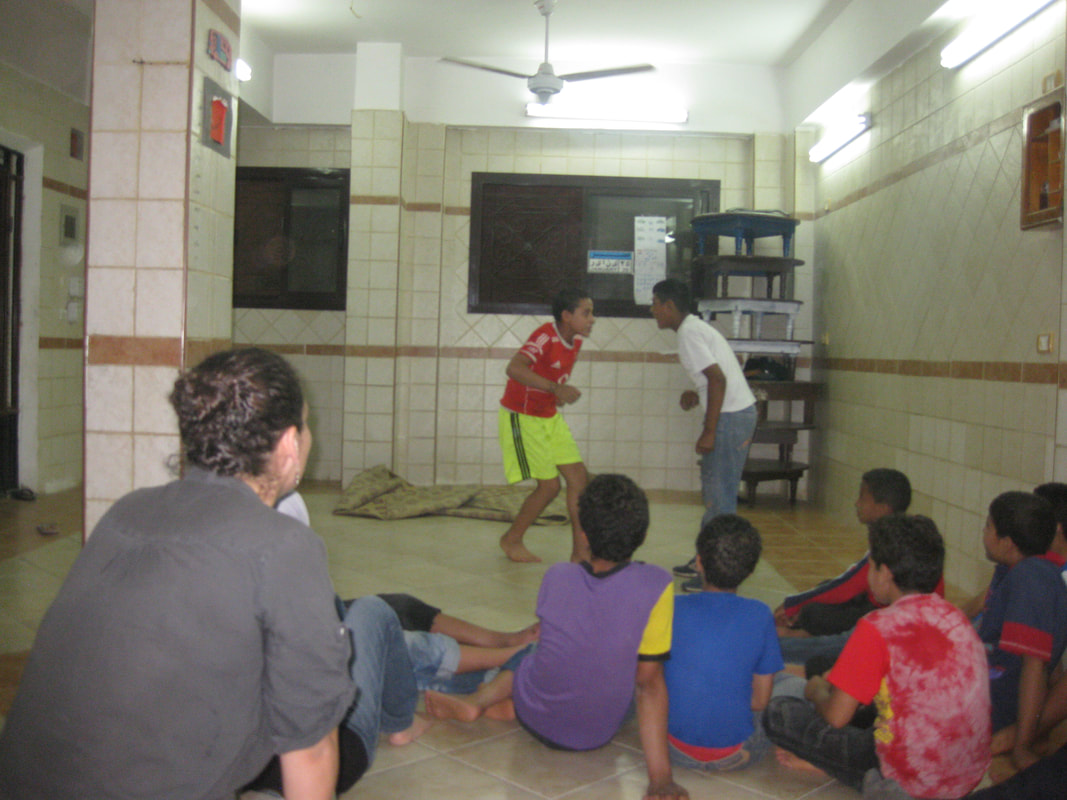 in Haqaq Helmak foundation (Previously Centre for the Child Worker and His Local Community) Omraneya, Cairo where I facilitated forum theatre 2011-2013
forum theatre
Since 2009, I have facilitated and coordinated several Forum Theatre and community theatre projects in Damascus, Cairo and London.
I began my training as a theatre facilitator in Damascus, Syria, where I was based at the time,as part of a Forum Theatre project in public schools in underprivileged areas of Damascus organised by Syria Trust Foundation. The project was quite large-scale which allowed me to work with different facilitators and gain quite a lot of experience and insight into different styles of facilitation, or as is called in forum theatre, jokering.
In 2011, and in parallel to the beginning of the 25th Jan revolution in Cairo, I had the sense that it was a good moment to really delve into forum theatre and partake in the nation-wise debate in my discipline and language.
I went on the receive further facilitator and joker trainings by several organisations and groups, last of which was Barbara Santos' training in Kuringa, Berlin, where I participated in the Aesthetics of the Oppressed course.
My interest in forum theatre focuses on the value of personal narrative and collaborative devising and performance making, tools which I find as empowering and revolutionary as the practice of intervention within the final performances. In my practice as a facilitator, I view personal narrative in its purest form as a collective narrative also, and I invite my participants to see how general a very specific story can be. Which is why, in my work with groups, narratives are built collaboratively, by the makers and actors of the scene with my facilitation and direction. Interventions were always applied as the scenes get performed for and by the larger community.


In 2011 - 2013 I also facilitated public workshops under the name Mashra7 Masha3 (Communal Theatre). I was a resident artist at Darb 1718 and Nazra Centre for Feminist Studies where I designed and facilitated 4-7 days workshops and facilitated and jokered final performance and audience interventions






In 2017 and 2018, I designed and facilitated a forum theatre program for Refugee Youth, an NGO in London that works with unaccompanied minor who immigrated to the UK. In this picture, I watch the scene with the audience, waiting for the audience to shout "stop" and intervene in the scene to improve the situation of the person they believe is being oppressed.